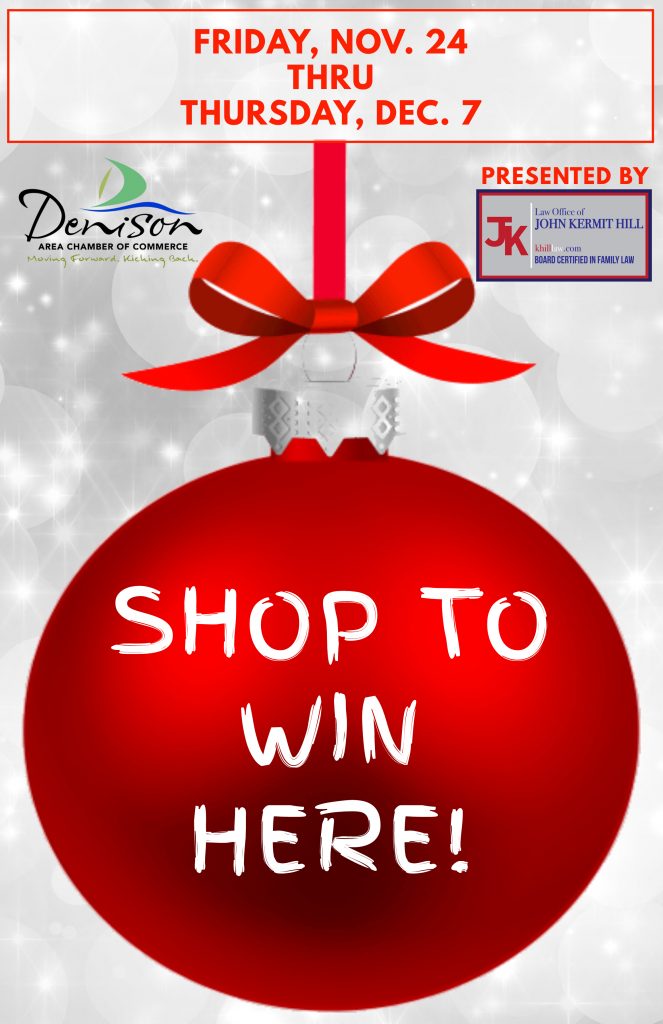 SHOP TO WIN!!!!  CASH!!!  CHAMBER CA$H!!!
$4,000 in prizes!
3- $500   4- $250  15 - $100
22 winners!!!
BACK FOR THE 4TH YEAR!  EXTENDED FOR TWO WHOLE WEEKS OF SHOPPING!
STARTS BLACK FRIDAY, NOVEMBER 24TH ONLY AT PARTICIPATING MERCHANTS LISTED HERE.
(1) ONE ENTRY FOR EVERY $25 SPENT.
EARN ENTRIES FOR TWO FULL WEEKS!
TICKETS ARE THE RESPONSIBILITY OF THE SHOPPER.  MERCHANTS WILL NOT KEEP THEM.
BRING YOUR TICKETS TO THE DENISON AREA CHAMBER OF COMMERCE STARTING MONDAY, NOVEMBER 27TH THROUGH THURSDAY, DECEMBER 6TH.

313 WEST WOODARD STREET, DOWNTOWN DENISON, ONE BLOCK NORTH OF MAIN STREET.
PARADE DAY - THURSDAY, DECEMBER 7TH

TICKETS CAN BE TURNED IN AT HERITAGE PARK ON MAIN STREET FROM 4 - 8 PM ONLY!
MONDAY, DECEMBER 11TH FACEBOOK LIVE, @DENISON.CHAMBER.  WINNERS WILL BE CALLED WHEN THEY ARE DRAWN.