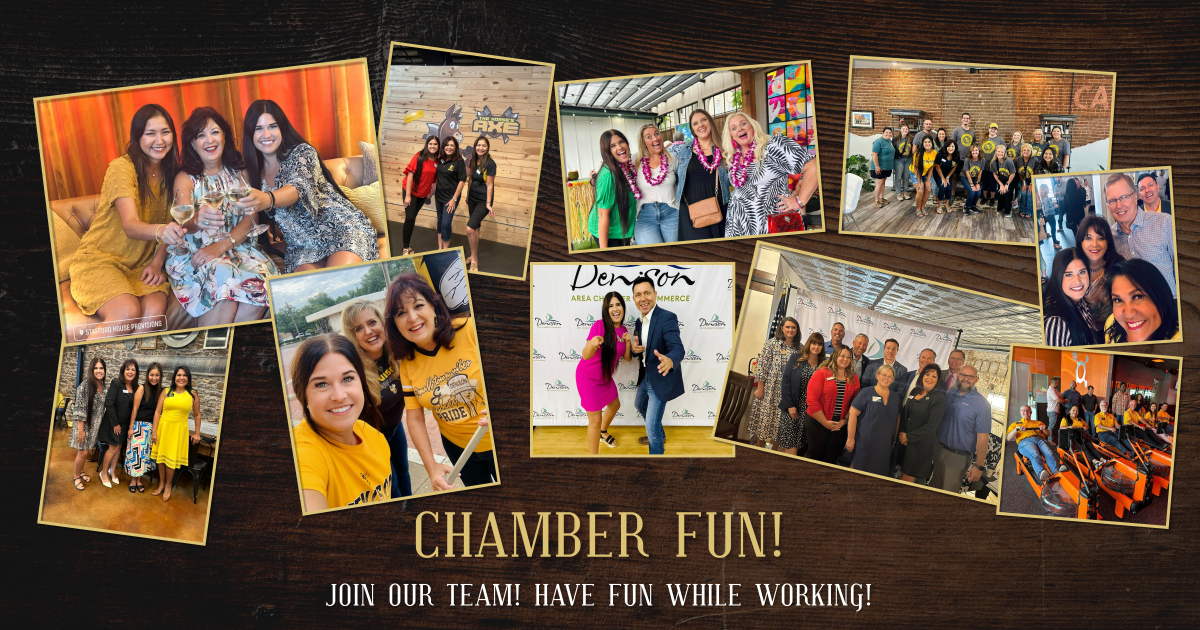 Are you ready to join a fun, fast-paced team?

Do you enjoy meeting new people and telling people all about Denison, Texas?
The Denison Area Chamber of Commerce is one of the most active chambers in the area.  We work hard but we also have fun!  If you are ready for a fun but challenging environment, apply today!
ALL APPLICATIONS MUST BE SUBMITTED VIA OUR WEBSITE.  RESUMES SUBMITTED ANY OTHER WAY WILL NOT BE CONSIDERED.
DENISON AREA CHAMBER OF COMMERCE
Membership  Coordinator
The Membership Coordinator provides various support to the President/CEO for Chamber initiatives, including event preparation, marketing, membership, invoicing, communications, confidential matters, and general office support. This position is a salaried position and reports directly to the President/CEO. The position averages 40 hours per week, with the possibility of evenings to support specific events such as the Business After Hours and Christmas Parade. Time off is granted for overtime events.  Hours are 8:30-5 PM, Monday-Friday, with limited Saturdays for Fall Festival and other community events we support.
REQUIREMENTS
Experience working in an office/professional environment.
Comfortable making sponsorship requests and following up with billing matters, including past-due invoices.
Well-organized with a keen attention to detail.
Excellent writing and communication skills.
Ability to operate autonomously with minimal supervision.
Proficient with Office, including Word, Excel, Publisher, and Outlook.
Experience with Mail Chimp, Canva, Poster My Wall, and/or ChamberMaster a plus.
This is a physically demanding job at times; you must be able to lift up to 40 pounds and be able to stand for long periods at times.
RESPONSIBILITIES
Job responsibilities may include, but are not limited to:
Oversee membership outreach, including generating monthly invoices, processing bill payments, and providing timely follow-up via phone or email if the bill is unpaid.
Welcome emails/calls to new members.
Website updates as needed
Mail materials to new members and new businesses.
Follow up on leads in person or over the phone.
Create Chamber social media member-related content.
Provide support in the planning, implementation, and follow-up for Chamber events.
Prepare and help distribute materials needed for events, such as emails, invitations, fliers, and tickets.
Maintain office supplies for copier, cleaning, and general office.
Run errands as needed for supplies for office and/or events.
Other responsibilities as appointed by the President/CEO.